Caution: Elderly People crossing (and '10 Dogs Allowed in the Play Area)
Posted on August 19, 2009 by yankeebean
I'm sure by now you've all seen the best road sign in history.  You know the one I mean:
The classic red triangle indicating a warning
Two stick figures, husband and wife, hunched forward from life's long journey
The cane, steadying and assuring (and sometimes used as a light weapon in the stick-figure-marks-and-spencers)
That's right, I'm talking about 'Elderly People Crossing'.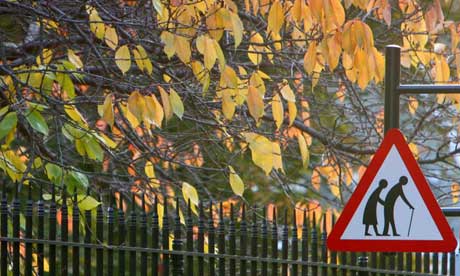 I almost FELL DOWN when I first saw this sign and it still brings me great joy… even right now at this very moment.  (Or is that the cup of coffee kicking in?) 
  I can't quite put it into words… it's just so… English.
It's because of this quirky, amazing (and caring) road sign that I did something very very stupid at a dinner party…
Awhile ago I was walking down Cemetery Road in York, there's a little fenced-in playground here with some colourful climbing frames and slides, etc.  On the fence outside there's a York City Council sign that said '10 DOGS ALLOWED IN THE PLAY AREA'.
I saw this sign and stopped…
WHAT??  10 DOGS??  How can they POSSIBLY monitor something like that?!?  And, more importantly, what's the friggin' POINT??!?  But a short walk home and I'd forgotten all about it – just another English quirk in the great quirky stream of life.
Now, fast-forward to a dinner party with a group of people that I didn't know very well (some of whom I really didn't seem to get along with, either – but that's another post for another time).  The conversation eventually turned to the differences between America and England, as they SO often do when there's an American in the bunch.  I immediately remembered my new-dog-sign discovery and eagerly recreated the scene with much hand-waving and general enthusiasm.
I deliver the punch line – "and it said '10 Dogs Allowed in the Play Area'… how can they possible police that??"
Silence falls across the room…
A tumble weed rolls by…
I can almost hear a muted trumpet going 'wah wah wawawawawaaaaaaah'…
And I'm getting manymany "you can't be serious, are you really that dim?" looks
(except for Mr Nice Guy who's giving me a "you're so cute, bless your heart" look, thank God…)
Yes, as you've probably guessed by now, it turns out the sign actually said 'No Dogs Allowed in the Play Area' and someone had just sratched off the 'N' to look like a '1′.
Looking back I can't believe I fell for it, either – but when I stop and think about it, if you'd told me that somewhere in the world there was an Elderly People Crossing sign with hunched stick figures, I've would've scoffed and told you to shove it.  A part of me just assumed it was another unbelievablly quirky and glorious English road sign to tell my Mom about…
Ah, well… I'm sure it was character building some how, right? 
Related Posts: